Get Offer Up to 20%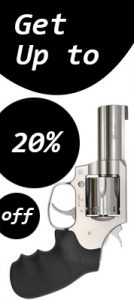 Sale!
Taurus Thunderbolt .45 Colt Pump Action Rifle
$705.00
Compare
Buy Taurus Thunderbolt .45 Colt Pump Action Rifle for Online
Taurus Thunderbolt .45 Colt Pump Action Rifle The Taurus Thunderbolt" will win you over while you're winning the competition. A perfect mate to your Gaucho Single Action revolver with .45 Colt ammo, this pump action beauty is fast, accurate and authentic.
The sample rifle has a handsome wood buttstock and forearm, with checkering on the latter. The bluing is a deep black, with the metal well-polished. The fit and finish on the rifle are excellent. The buttstock wears a very good-looking curved steel buttplate.  It leaves the shooter the opportunity to fashion the notch to his own desires.
The trim barrel measures twenty-six inches long, and is just over five-eighths of an inch diameter at the muzzle.  I really like the way that the Thunderbolt handles.  It is an easy rifle to shoot, and recoil is minimal.
I shot the Thunderbolt with a variety of ammunition, from light Black Hills Cowboy loads, to handloads using 200 grain .45 ACP wadcutters, 250 grain Keith semi-cutters, and jacketed hollowpoints.  It was just an attempt to test the limits of cartridge length in this rifle. All of the normal .45 Colt ammo functioned perfectly, including the hollowpoints and wadcutters.
There are a couple or three replica Colt Lightings on the market now. I have fired the USFA Lightning, and it was just as accurate as the Taurus.  The USFA lists at $1480, and the Taurus currently lists for just $475.
For the Cowboy Action shooters, the main competition for the Thunderbolt will be the various lever action rifles currently available. I love lever action rifles. The action stroke on the Thunderbolt is very short; only two inches, straight back and straight forward.  The shooter's trigger finger stays inside the trigger guard, and the hand never releases its grip on the rifle. A shooter can very quickly empty the rifle this way. At close range, it is a lot of fun!
Model: C45BR
Construction: Steel
Safety: Manual Safety; Manual Safety
Caliber: 45 Colt
ForeArm: Wood
Capacity: 14
Front Sight: Fixed
Barrel Length: 26″
Rear Sight: Adjustable
Action: PUMP
Trigger Type: Smooth
Order Number: 3-450261
Finish: Blue Steel
UPC: 7-25327-21259-1
Stock: Walnut Finished Hard Wood
Rate of Twist: 16.5″
Weight: 130 oz
Grooves: 6
Category: BLEMISHED GUNS
Tags: .45 colt rifle, 45 colt, action, auction, BLEMISHED GUNS, bolt action rifle, carabina pump action, cowboy action, cowboy action shooting, LEVER ACTION, lightning rifle, pump action, pump action rifle, pump rifle, rifle, rifles, slide action, taurus, taurus (business operation), taurus rifle, taurus thunderbolt, taurus thunderbolt 45 long colt, taurus thunderbolt for sale, taurus thunderbolt review, taurus thunderbolt rifle, thuderbolt, thunderbolt, thunderbolt rifle
Best offers
Join Risk Free
30 days refund
100% Safe
Secure Shipping
24x7 Support
Online 24 hours
Free Shiping
FOR ALL ORDERS OF $ 500
Testimonials
Sabina
Vivamus arcu felis bibendum ut tristique et egestas. Eu sem integer vitae justo eget magna fermentum
Ricky
Vivamus arcu felis bibendum ut tristique et egestas. Eu sem integer vitae justo eget magna fermentum